Every time I've visited the Mayan ruins in Mexico, I've been fascinated by the abstract relief sculpture of human skulls. The skull is a symbol of life and death in many cultures and is a reminder that we all die–memento mori.
Calaveras go well with October for obvious reasons—Halloween is the best holiday in the United States, and Día de Muertos is my favorite holiday in Mexico.
This month, I'll be creating a new skull drawing each day. Each illustration will evolve from the previous to create 31 unique works by the end of October.
Each drawing will also accompany a daily journal recording a bit of what I experienced that day.
October 31 It's the last day of this project. A little bit of a welcome end, but pretty happy with the result overall.
October 30 Every year, there's a day that comes along that reminds you that you are one step closer to death. For me, it is today. I had a great day however, and really felt alive. Although it was debatable how smart it was to descend into the freezing cold water of Zion canyons, we set out early and dropped into Pine Creek Canyon in Zion National Park. It held up to expectation and was one of the most amazing ways I could think of celebrate the day.
October 29 Over the past couple years, I've been learning the art of canyoneering. I really enjoy it for a couple reasons, primarily, it is an amazing way to visit some of the most beautiful places on the planet. Today we hiked into Echo Canyon in Zion National Park and descended the slot canyon there. Canyoneering has opened so many new places in this park for me, I doubt I'll ever tire of visiting.
October 28 I'm headed down to southern Utah today, and will probably fall a bit behind on the updates. I'm going for some brain stimulation by experiencing some awe in Zion National Park.
October 27 The Saturday before Halloween it's tradition for my neighbor to do an all-out bonkers transformation of his home into Hogwarts. It's fun to see all the people that come to check it out, including all of the patients he's had over many years.
October 26 Taking this project back to humanity with an in-between step. The combination of robotics and humanity for some is seen as a step of progress, even a part of evolution. I guess it's pretty interesting and we are probably on that path already. Today was a decent day, as are most. Looking forward to the weekend, and getting back to the desert next week to do some exploring.
October 25 Still thinking about the future as a symbol of death. That's ultimately what comes in the future. The near future, however, is pretty exciting, because that's all about life and what will happen next.
October 24 The future comes at you faster than you realize. Since I made the first robo-skull on the 15th of this month, the theme keeps coming back. A skull is essentially a container that once held life. Robots are containers that metaphorically the opposite, and we imagine that they will someday hold life.
October 23 The sad clown is an interesting juxtaposition of humor and depression—two things that shouldn't go together, but are possibly intimately connected. I wasn't trying to get deep with this, but when you start drawing skulls and they turn into clowns, you've gone down a dark hole.
October 21 My dad had a very large box full of bird feathers that he used to tie flies for fly fishing. One time we took a pheasant wing from the box, and put it under the covers of my sister's bed as a practical joke. Hearing that blood curling scream as we went off to bed that night was pretty satisfying for an older brother. I'm pretty sure I got in trouble of some sort, but I don't remember that part.
October 22 Sundays are the greatest day. I think we can all admit that it was a good idea to have a day of rest. It's good for Chic-Fil-A, and it's good for you too.
October 20 Took a nice afternoon hike up Adam's Canyon. I've lived near this canyon for 15 years, but have always avoided it because there are always a ton of cars parked at the trailhead. Today I know why it's so popular. It's a beautiful hike ending with a spectacular waterfall around the corner. Was hoping to see the biopic about Neil Armstrong tonight, as he was one of my childhood heroes, but will have to do that another day.
October 19 Pretty routine fall day. Kids are out of school for fall break, and I'm trying to catch up on some work at home.
October 18 A unicorn in my line of work is an individual who has multiple skillsets and is good at all of them. Because they are rare and hard (or impossible) to find, they are like mythical creatures that don't exist. In this sense however, they do exist.
October 17 Since the pipe, I'm feeling more compelled to add accessories to each drawing. I feel like I need to stop doing that, and probably will, but not before I protect myself this particular vampire with a few crosses. I definitely believe in the metaphorical vampire—a person or thing that slowly sucks away your energy, and offers nothing in return. I also realize that chupacabras are technically not the same as vampires.
October 16 Sometimes a pipe is a pipe, and sometimes it is not. I've been trying to tie something from each day to the skull to make it bit more meaningful and personal. But today, I'm pretty sure that I'm just filling the space. Don't get me wrong though. I really like this calavera, but maybe it's not actually a calavera after all.
October 15 There are times when I feel like a robot. There are tasks to do, and I do them. Today was one of those days. I finished up some writing that I've had on my mind for a while - remembering the sci-fi book "A Wrinkle In Time" by Madeleline L'Engle, and applying a few lessons learned to my job.
October 14 Really feeling like winter is coming. I'm hoping that I get a few more weeks to enjoy the fall weather. I like it when it's nice and cool outside. Our cats are feeling the cold come on, and they are starting to seek out a little more warmth by crawling around, and trying to get me to let them sit on me. I wish that cat allergies were just seasonal too.
October 13 The devil is in the details. I honestly don't know what that has to do with anything for this journal entry today, but I ended up with this horned skull that I really liked.
I took a beautiful hike in the Wasatch near Mt. Ogden. I've been up this particular trail many times, and every time, I'm in awe at the beauty. Today was especially great with fall colors, cool crisp air, and beautiful clouds.
October 12: I am the second of nine children. I have one older sister who requested I name one of the skulls this month after her, and here it is. I have many fond memories of growing up together. We were just a little over a year apart and played together often. One time she was trying to protect me from a stray dog that had wandered into our yard and threw a large rock toward it, but instead nailed me in the forehead. I remember that there was a lot of blood.
After writing this little memory today, I realize that sometimes our fear, frustrations, and anger can easily be misdirected and can unintentionally harm others.
October 11: Had to get our new clothes drier fixed for the 2nd time in less than a year. Actually seemed very nice to deal with a domestic problem.
October 10: Stopped to pick up Paxton from Karate class today after work and was able to watch him dominate the board breaking challenge. He bruised his elbow just a little, but was pretty excited about getting through all the challenges and being one of the only ones in the class to do it.
October 9: I woke up almost deaf in one ear from a head cold of some sort. Don't know how I feel about today, other than that I almost didn't make the commitment for this skull drawing. There were some interesting things from the past that made themselves relevant again.
October 8: The day started off about as good as any planned bad day can start, however, what really ruined my day was the traffic on the way home. I missed a one night showing of a movie I really wanted to see because I'm sitting in a car on a road. I know there are things worse than this, but not that many.
October 7: Coming to a resolution makes you feel like there's an alien force within you helping you move forward into something different and foreign. In this case, October 7th is just the mental part of a particular resolution that will likely be an interesting, dramatic & emotional process.
October 6: Up super early this morning because I can't sleep. That's something that hasn't happened in a long, long time. Going for an early morning hike to clear my mind. Might change or add to this entry later today. Incompetence is the theme for the day, but I'd like to think about how competent and sure-footed I was as I walked over two mountain ridges in the dark this morning.
October 5: Attended the funeral of my wife's cousin, Paul. He was a loving father, friend, and always seemed to be happy and excited to be alive. He will be missed. The sun came out today, and it's a beautifully perfect fall day. Crisp air, warm sun, and beautiful clouds in the sky.
October 4: It's raining today, and supposed to rain more than it has rained all summer. I am enjoying the rain right now. I'm also feeling stressed (unnecessarily) about many things.
October 3: Met two of my favorite people for lunch - Rob Foster and Josh Penrod. These guys are so great, and they are getting tomorrow's skull named in honor of them no matter what happens. I went skeet shooting after work. It took me a few minutes to get my technique right for throwing the clay pigeons. I was pretty worried I wouldn't be able to throw or shoot.
October 2: Incident at work reminded me of that great scene in Amadeus where the King of Austria tells Mozart that his composition had "too many notes." This classic scene truly captures what happens when the highest paid person in the room is obligated to have an opinion.
View the "Too Many Notes" clip from Amadeus(1984) so you'll know what I'm talking about.
October 1: Celebrated the birthday of my son Paxton. He's thirteen, smart, full of energy and now a teenager. Sigh. Also had worst ever traffic on the drive to work.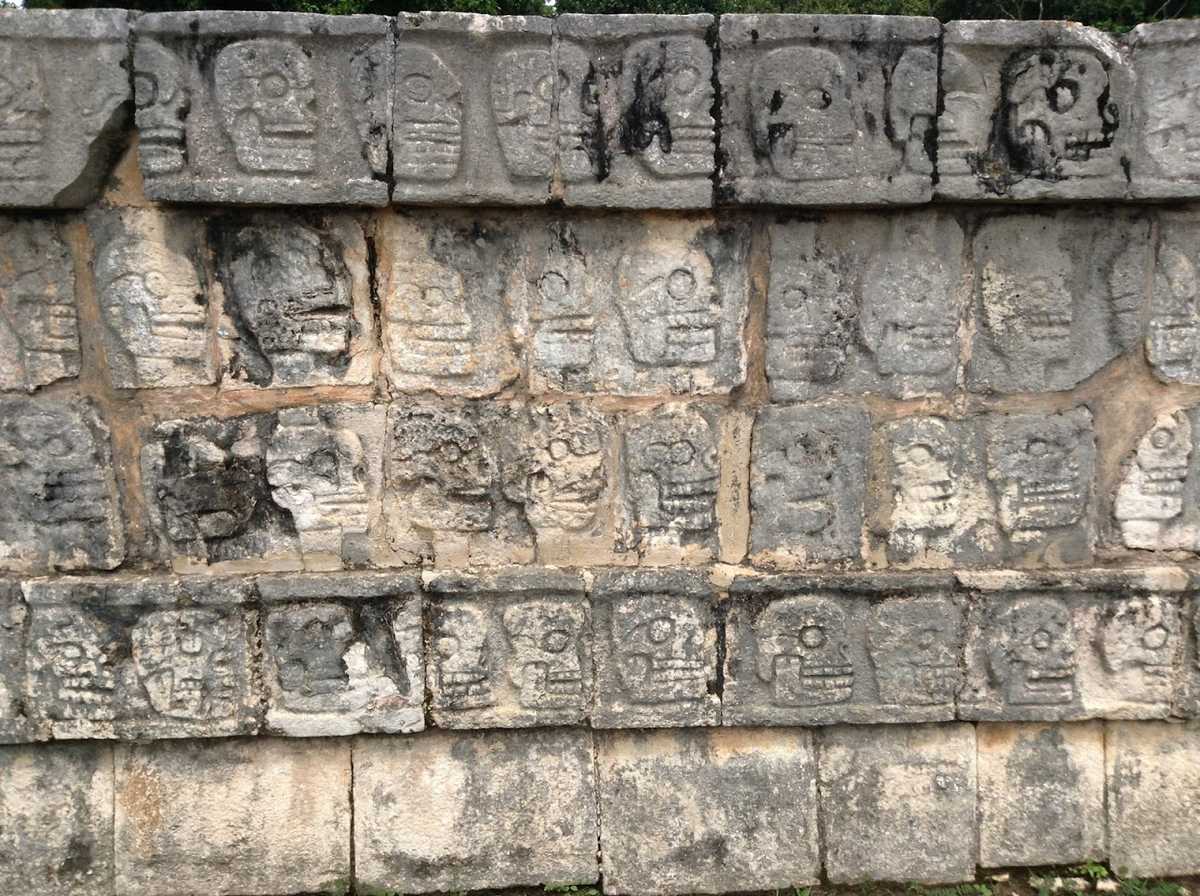 Inspiration comes from the "Temple of the Skulls" at Chichen Itza - a low platform covered on all sides by rows of carved skulls. The purpose of the temple is mostly unknown, although, it is believed that the platform was used to memorialize past victims and display the heads of sacrificial prisoners or enemies.
My skulls will be used only to memorialize past days of October this year.