Standing at the top of a mountain peak is always a satisfying experience, even though in reality the journey is only half-over you feel a great sense of accomplishment and you are rewarded with a view of the horizon that is only available at the apex of the summit.I climbed Rainier with RMI guides on June 22–25, 2010. Photographs were taken with an Olympus point and shoot camera.
It's hard to capture the essence of a trip in writing or with photographs. No matter how good your photographs are, they never do justice for what you are able to experience in the moment with all your senses fully engaged and undistracted. I find that the experience has a purifying effect on my mind. On the mountain, things seem simple and clear. Reflecting on the experience often brings clarity to other parts of my life. On this particular trip, there were many lessons learned – metaphors for living and working found in the course of the adventure. I'd like to share a few of them:
Commitment
Commitment is a huge factor in any undertaking – you have to set your mind to complete something early or there's a chance you'll end up backing out. Without committing to the goal mentally, I never would have trained properly. I would have found it easy to bail after hearing news of avalanches and death on the mountain. Not committing could have cost me the enjoyment of a truly incredible experience, leaving me only the "debt of regret".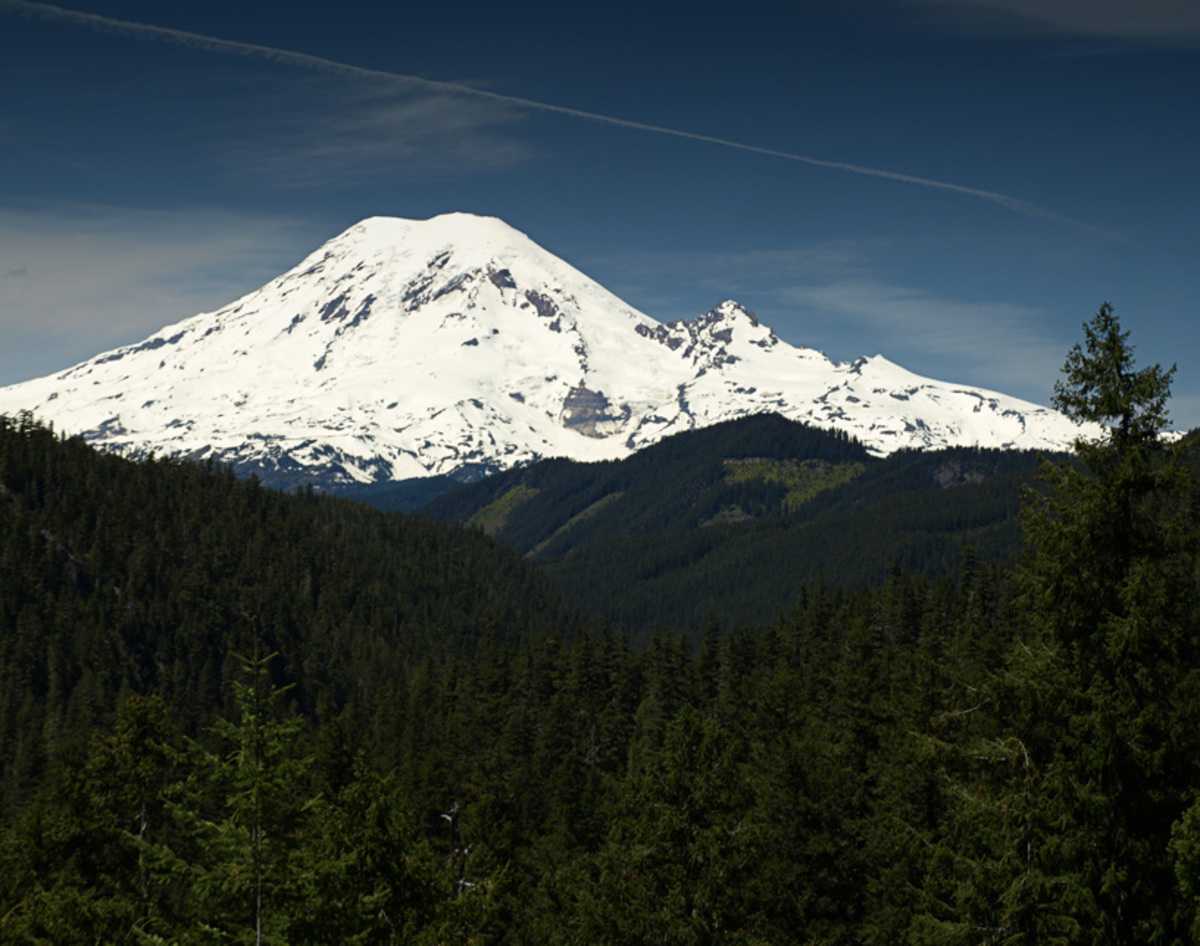 On our way to Ashford, Washington we were greeted with this incredible view of Mt. Rainier. It had been overcast skies for weeks before, and it cleared up perfectly for our trip.
We booked our trip with RMI guides, a reputable guide service for mt. Rainier. They required a non-refundable $300 deposit, and payment in full 90 days before the trip. Making that non-refundable payment was one way to commit – but even bigger was the mental commitment that I was going to do it. I committed, and would do what it takes to make the trip, and make it enjoyable and safe for myself and the others who committed along with me.
Without real commitment, an idea never becomes anything more than a dream.
Preparation
After I signed up for the climb I started mental and physical preparation. Regular trail running (with lots of uphill) and weekly trips into the mountains with a loaded pack were the main course for my training. I often felt like I wasn't getting in the training that I wanted, but I was consistently getting out, and trying to get as much elevation as a could. I also prepared by getting my equipment ready and testing it out to make sure it would work for me like I needed it to.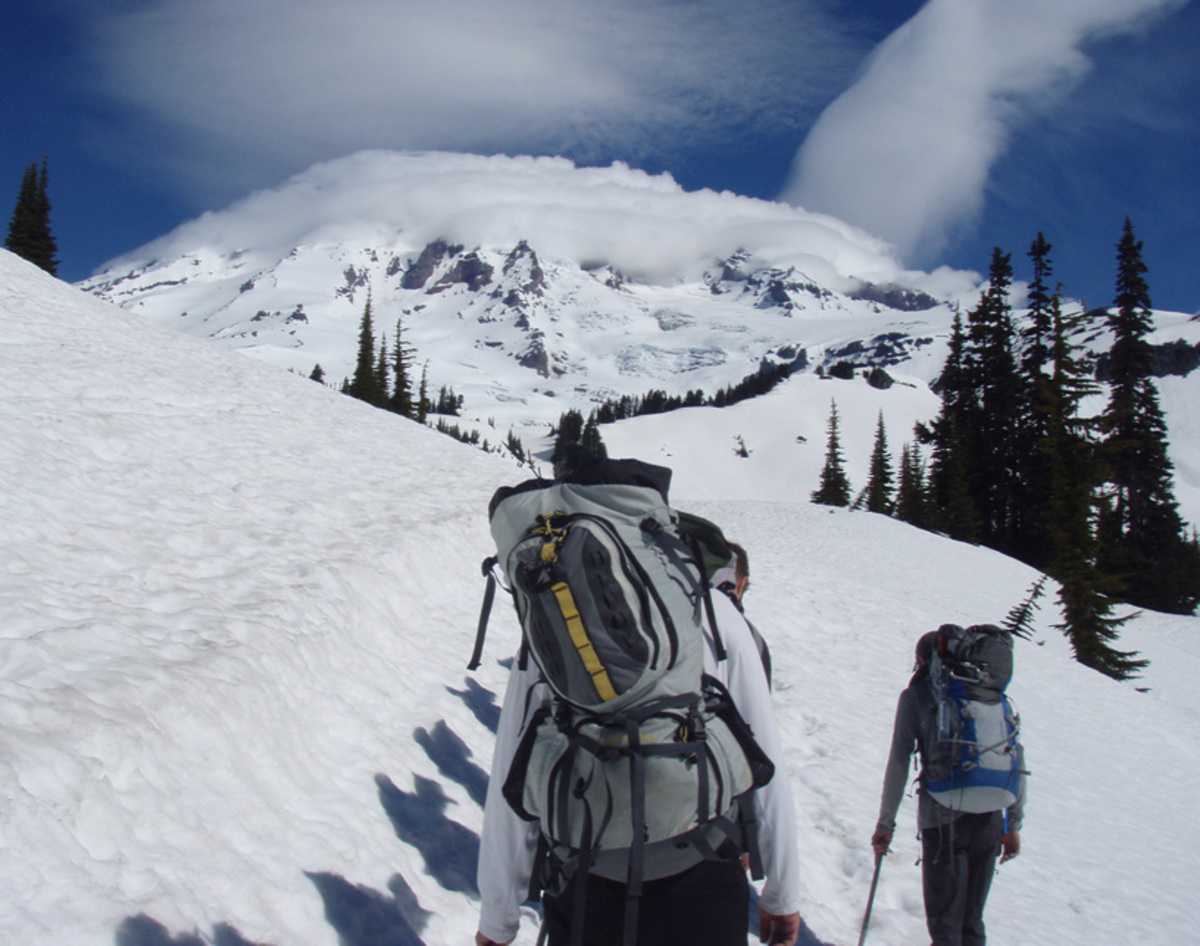 As we started up the mountain for a day of training before our summit attempt, Mt. Rainier had a cap of cloud cover on the summit. For us it was a beautiful clear day, for those on the summit, it was white-out wintery conditions.
As with all things – preparation can make or break your chances at success, and has an even bigger impact on how much you enjoy it. I was glad to have strong legs and lungs, and made it off the mountain with some energy in reserve.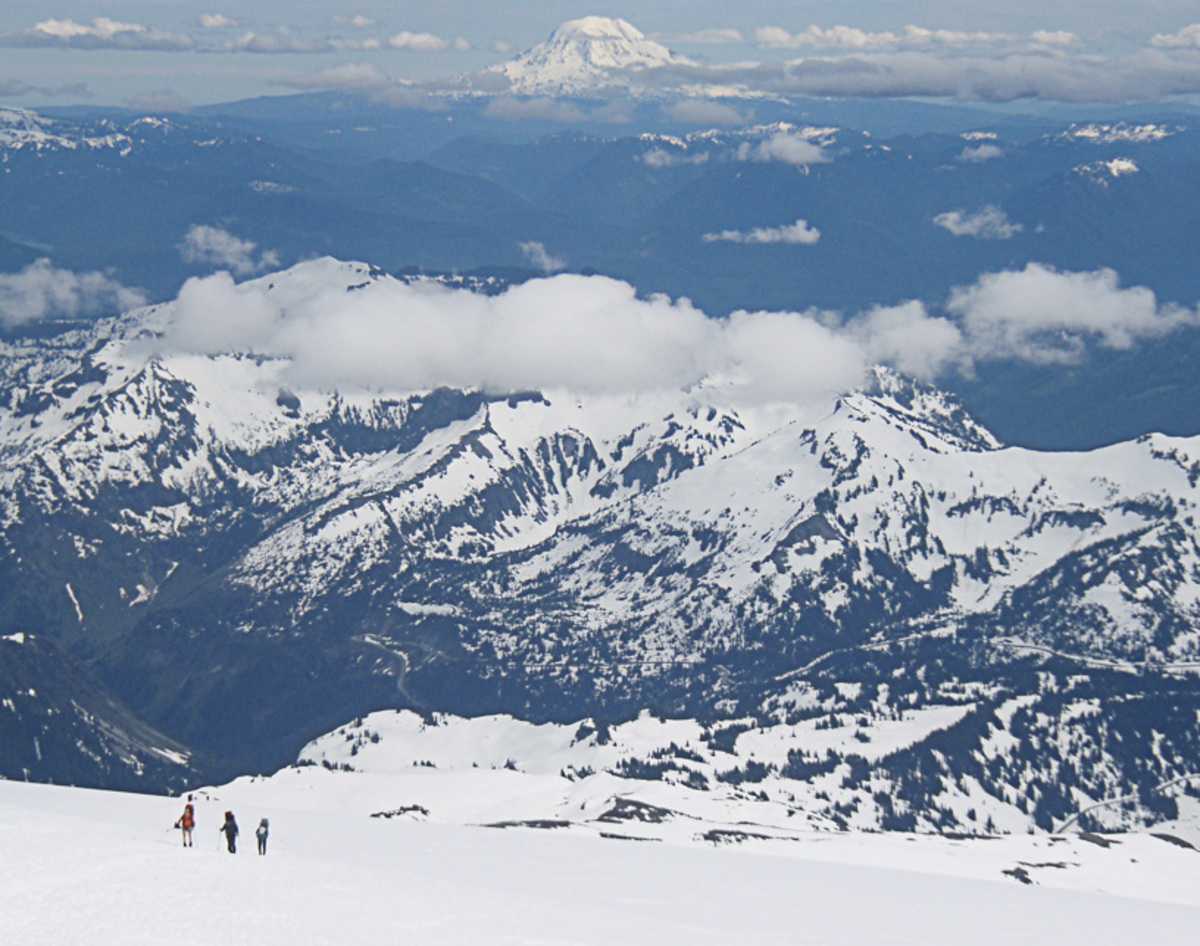 Climbers arriving at Camp Muir across the Muir snow field. Camp Muir sits on the mountain at about 10,000ft, and is the primary base camp for independent and guided parties attempting a summit of Mt. Rainier.
Remember your Priorities
On the first day of orientation, the guides gave us our 3 goals for the trip:
Safety
Have Fun
Reach the Summit
These three goals—in that order—are perfect for any activity, and even for you life in general. There are inherent risks to the activity, and the purpose of the first goal is not to eliminate the first two, but to always keep in mind that if you die or are seriously injured in the process – there's no chance you'll accomplish goals number 2 and 3. Having fun is also more critical than reaching the summit – if you can't have fun or enjoy the experience, there's really no point in it. These kinds of activities are hard work – as an individual you also have to be prepared to know how to have fun doing things that are difficult. You also have to know how to keep having fun, even if goal number 3 (reaching the summit) doesn't come to fruition. There is a very high chance that we wouldn't get to climb to the summit, but with priorities in order, my worst case scenario would include at least 2 of 3 successes.
"The mountains will always be there, the trick is to make sure you are too." Hervey Voge
Rest and Relief
On our hike both directions (up and down) we took structured breaks. We would hike for 1 to 1½ hours and then take a 10 to 15 minute break. The breaks give you a chance to shed the weight on your back, and to refuel for the upcoming stretch. A break give you a chance to catch your breath (if you need it) a chance to snap a few photos, and a chance to relieve yourself so that you can continue the next section without fatigue. Resting too long can cause you to get cold (literally), and makes it harder to restart. Not enough rest can also cause problems – like trying to get a few hours sleep in a makeshift bunk house packed with 18 people. When you don't rest, your body doesn't have time to recover and it can make things tough on you.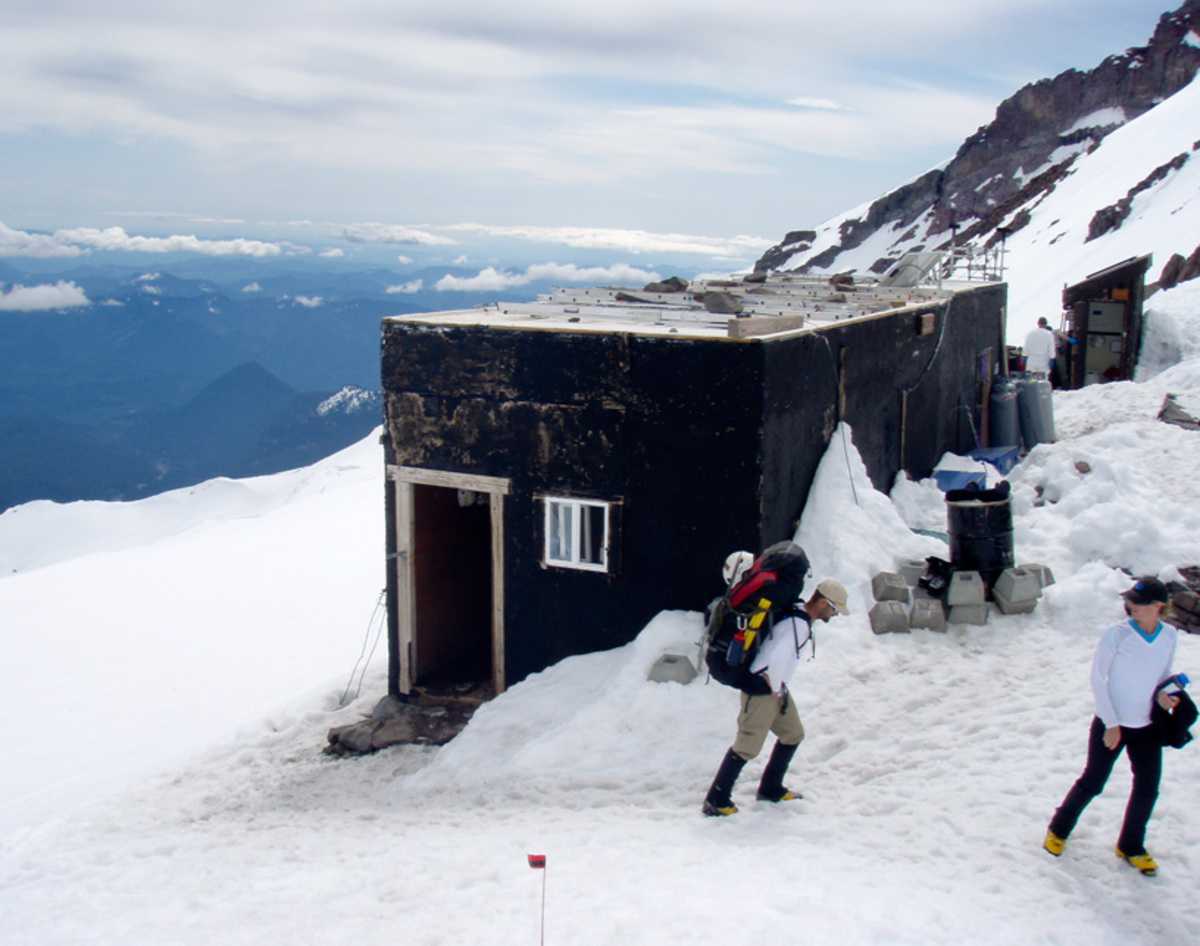 We stayed the night in this hut — probably the worst part of the whole trip. Trying to sleep in a tiny hut with 12 other climbers is not easy to do.
The Alpine Start
Climbers begin a mountain ascent in the early hours of the morning to avoid falling ice and rocks when the sun heats the mountain during daylight hours. An early start is also critical in order to ensure that there is time to get off the mountain in the case of unexpected hold-ups. When the light went on in the hut at about midnight, it was a relief for me and we got up to get ready to start our climb. After an oatmeal breakfast and a good drink, we put on our gear (harness and crampons), hooked on the rope and started at climb at about 1:15 am.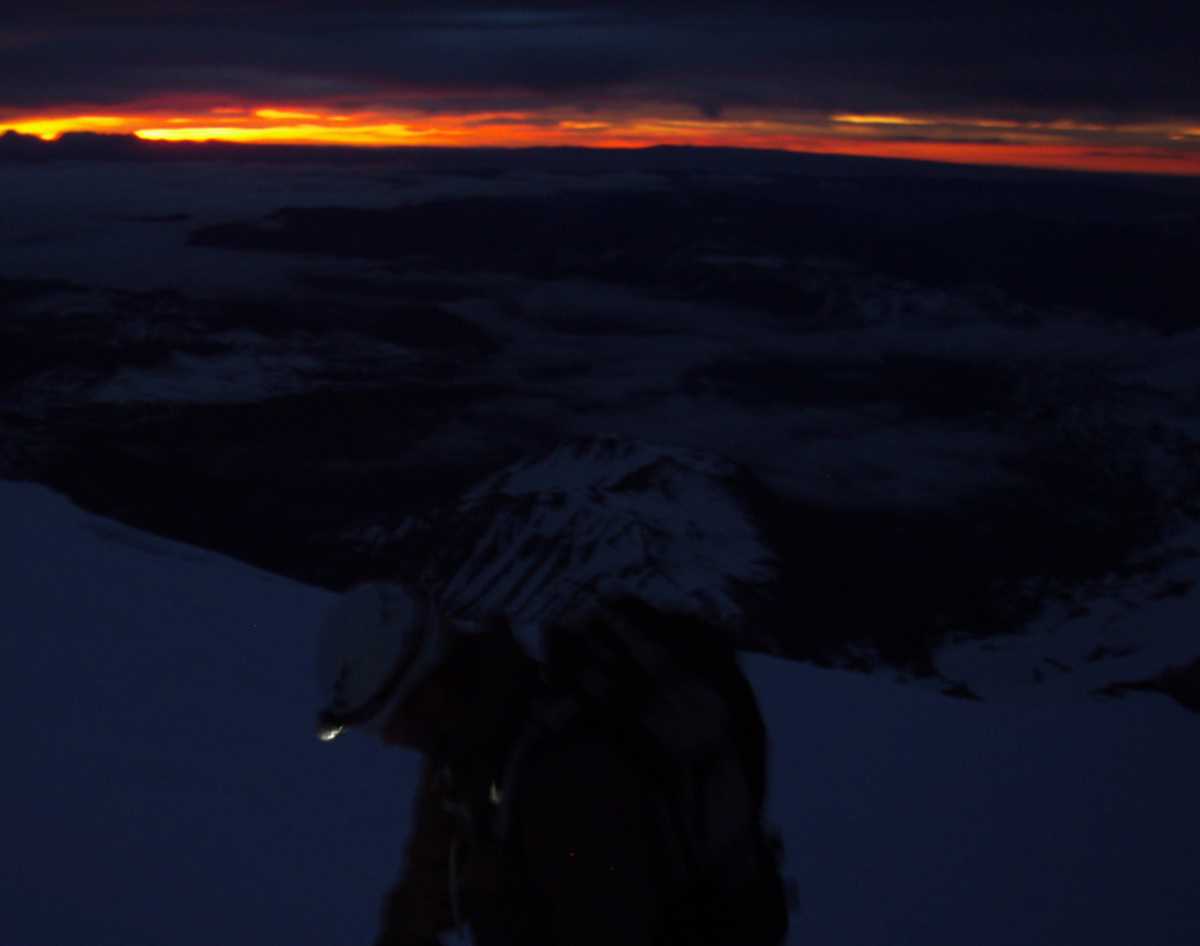 Watching the sun rise on the trail is one of the best parts of the climbing experience. As the sun comes up, your progress is slowly revealed, and incredible views appear.
An early start is a good idea in about anything. Even if you are fast, when you start late, those that left earlier end up in front of you, slowing you down and creating new obstacles for you to deal with. The later and longer you are on the mountain, the more chance you have for things to go wrong. When things go wrong early in the game, you've got time to deal with them. When they happen late in the game, there's no time, and the effect can be exponentially worse.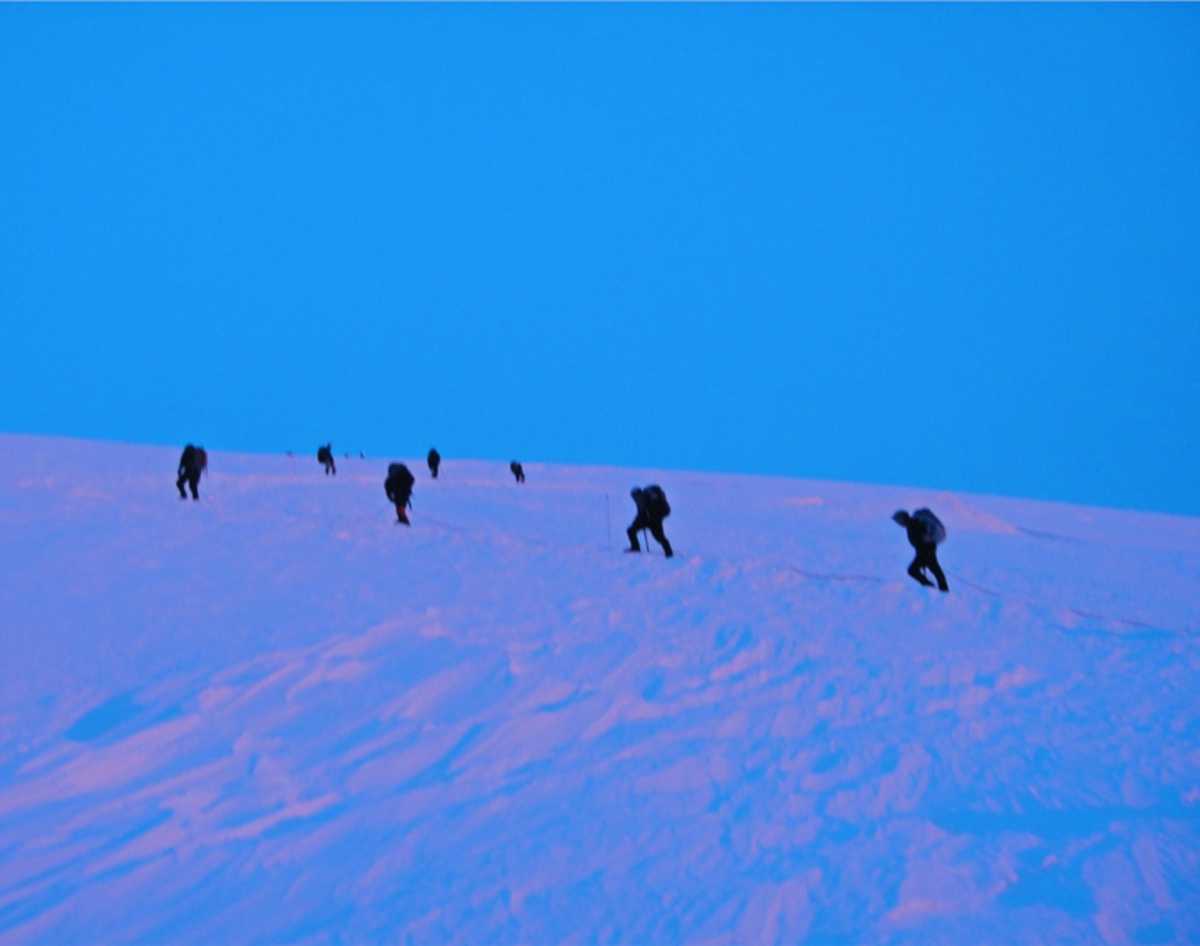 As the sun came up, we were treated to a beautiful "pink sunrise". This photo was taken by Yoshi, another climber on the trip. I still can't figure out why I didn't think to get my camera out – I think I was momentarily stunned by how beautiful it was.
Remember to Breathe
The key to keeping your energy and endurance at elevation is in proper breathing technique. When you are on the mountain at 13,000ft if you forget to intentionally breathe, or simply revert to your lower elevation breathing style you deprive your body of oxygen and run the risk of ending up a little bit light headed or out of energy. Climbing at elevation makes you realize your dependence on the air in our environment. Each breath is intentional, exaggerated, and in rhythm with the climbing motion. The breath helps focus, it helps the progress, and makes you feel alive.
Sometimes we get so caught up in the things that we are doing that we forget to take care of the essentials.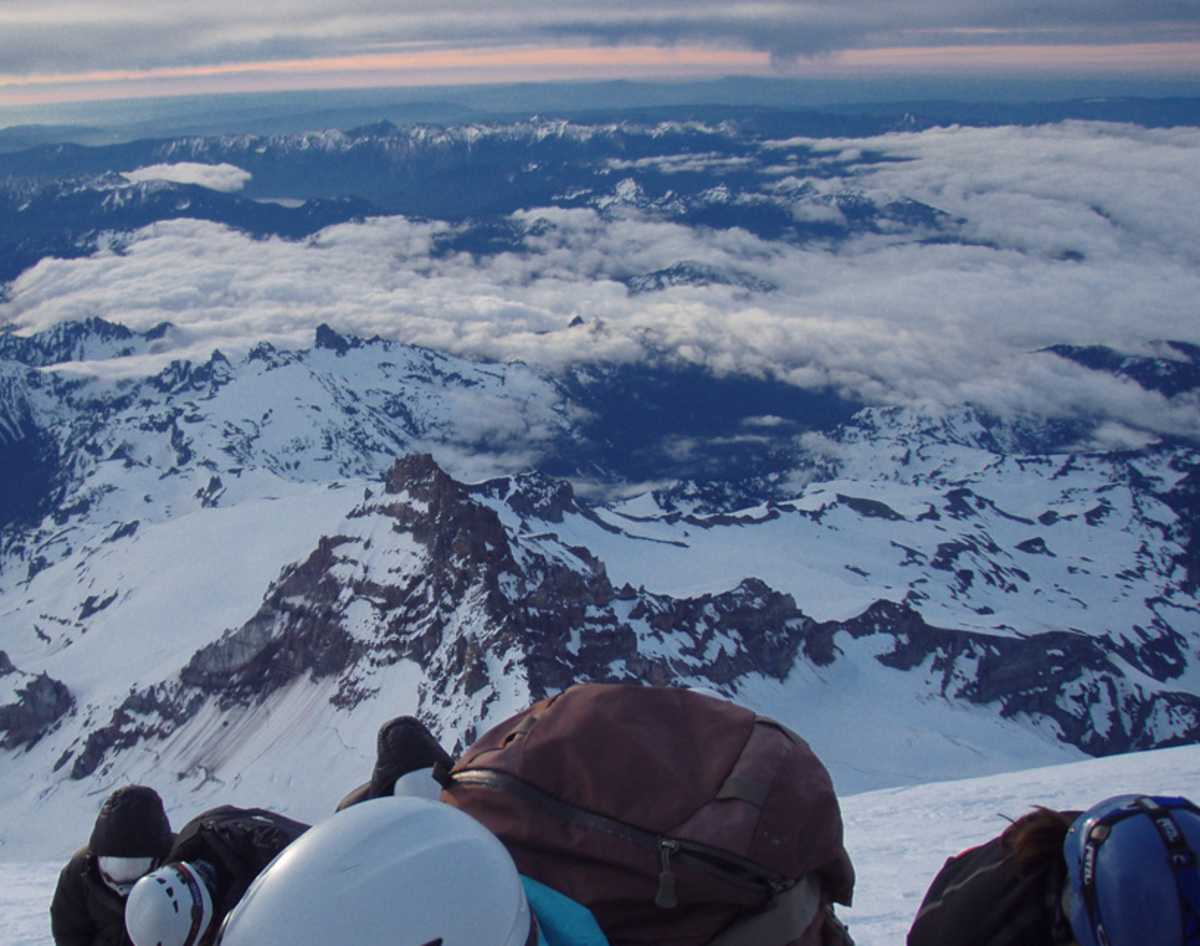 An early morning view from one of our breaks. We stopped on a steep section of the mountain just after sunrise. We all stayed attached to ropes and took a moment to drink, eat and breathe.
Reaching The Summit
We arrived at the summit at around 5:30 am. It was actually a surprise to me that we had reached the summit so quickly. I was expecting at least another hour of hiking. When we arrived we had clear skies and almost windless conditions. It was very cold on top —probably around 15 degrees or colder. We dropped our packs, took a quick drink of water and ate some food and then headed across the crater to the Columbia Crest which is 14,410 ft. above sea level. On top you could tell that this was not just a mountain, but a living, active volcano. The crater rim had exposed dirt, and you could see steam rising from it.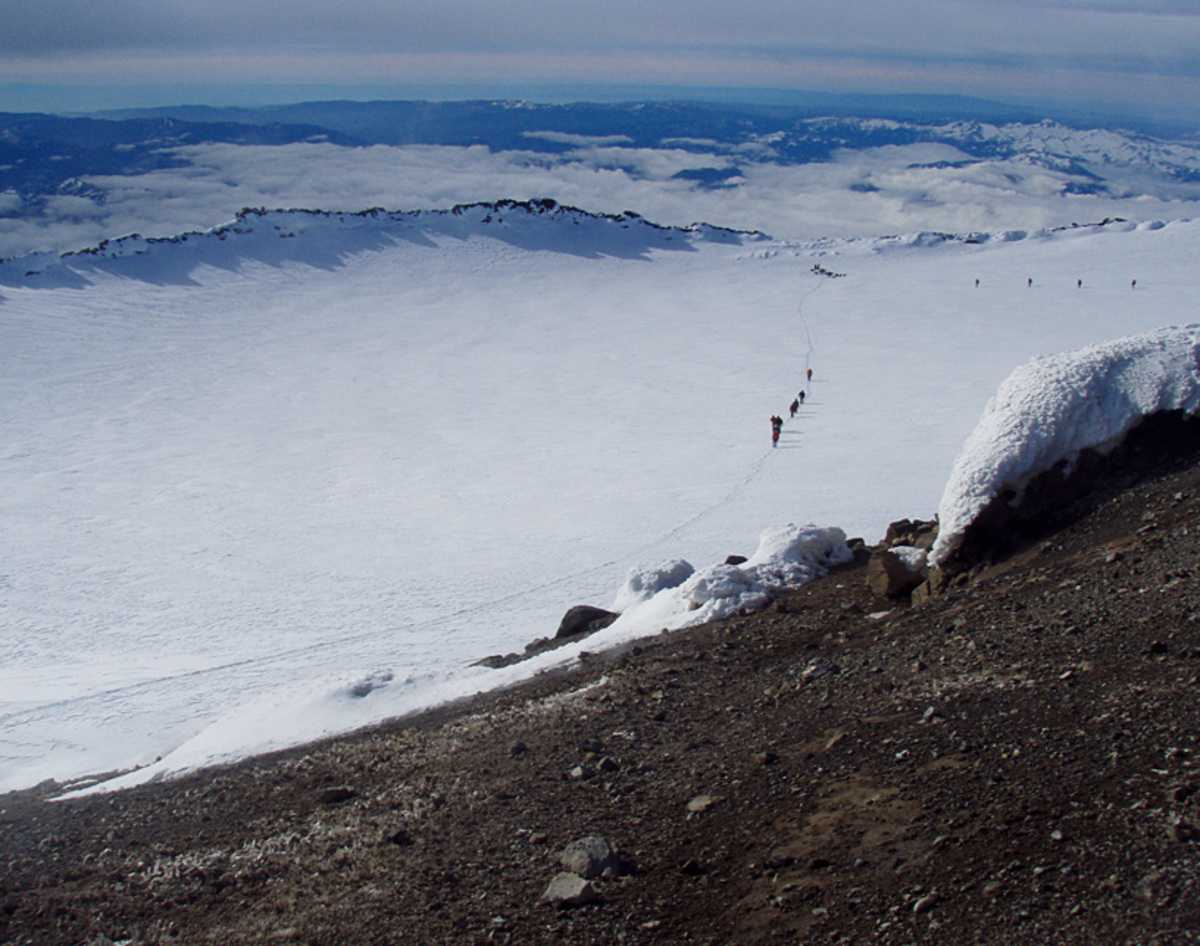 The photo above was taken from the true summit of Mt. Rainier. Needless to say, it's quite the experience walking across the crater of an active volcano of that size, especially when you can see evidence that this thing isn't all that dormant.

A panoramic view composed of a few different shots taken from the true summit.
Getting to the top is great feeling – although sometimes it can even seem a bit anti-climatic. The true summit is the smallest part of the mountain, it's usually cold, windy and crowded, and there's not a lot do do there other than to take a large sweeping view. It is also a place of great satisfaction. I never ever pictured myself on top of Rainier, yet there I was taking a picture. The view was amazing, you really get a sense of the horizon, with nothing blocking your view in any direction. For a moment you really are on the top of the world.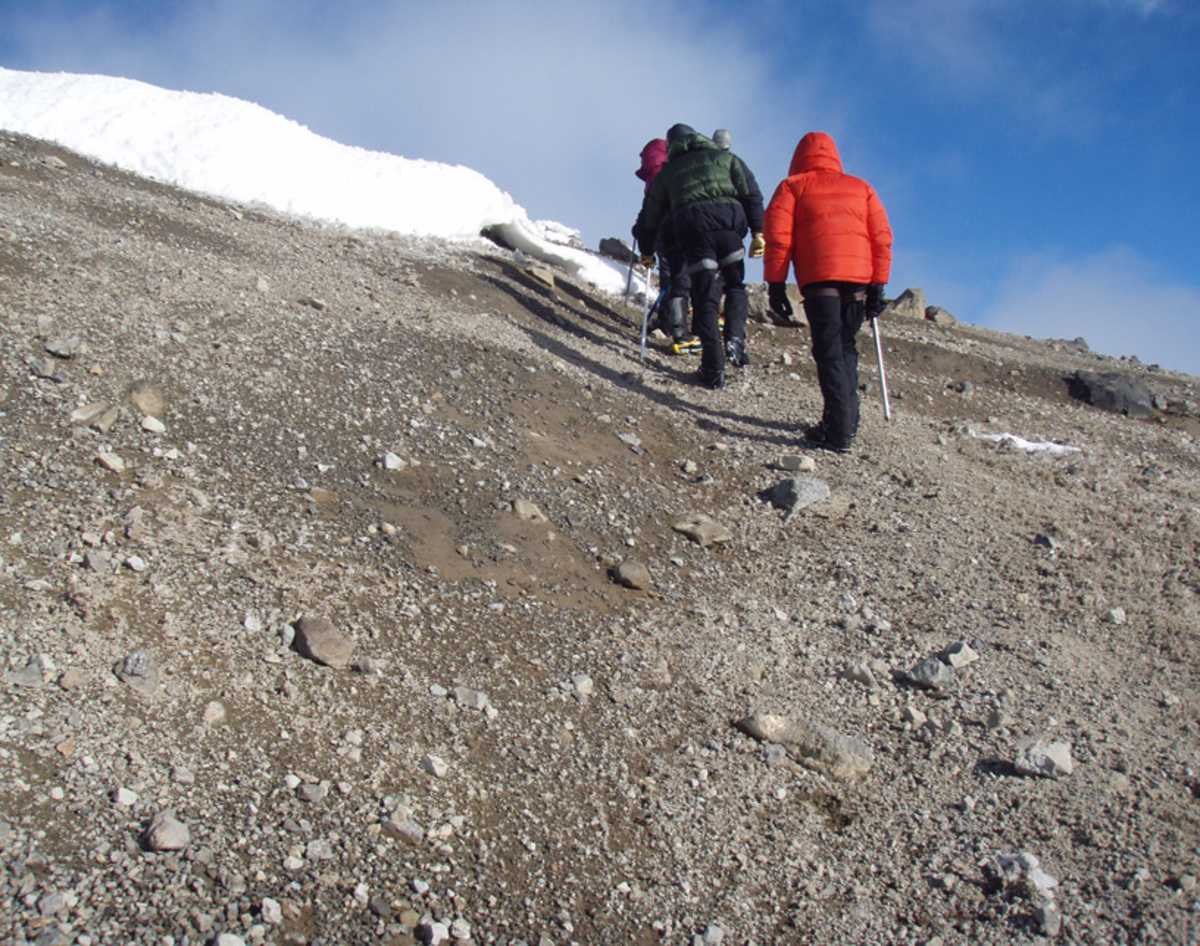 Making our way up to the true summit on dirt! After so much walking on ice and frozen snow, it was a strange feeling to step on soft warm dirt at the coldest place we'd been that day.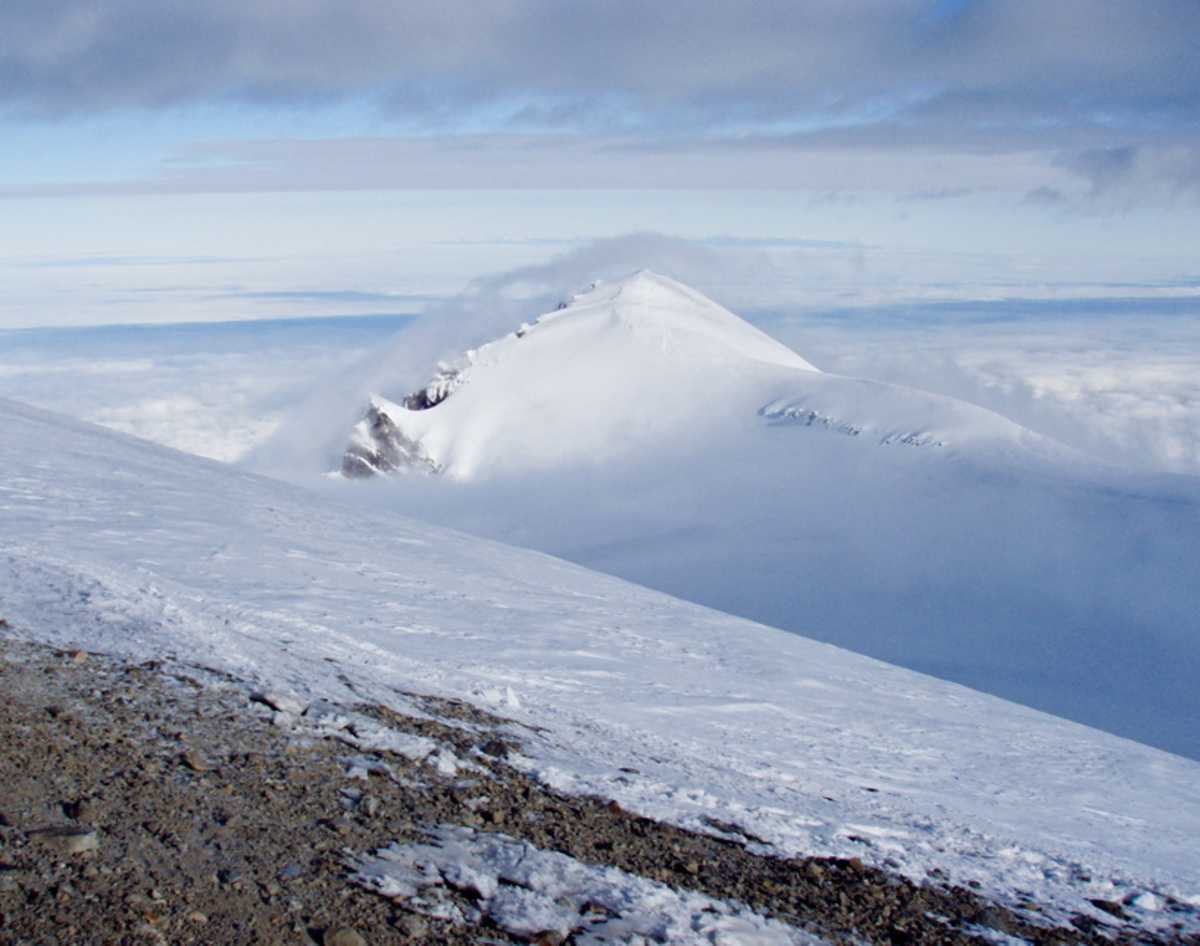 Looking down from the top, we could see a few clouds that were starting to surround the peak. There was also a beautiful sea of clouds at about 4,000 ft covering the valley floor.
Conditions Change
We arrived with sunny blue skies, but within 30 minutes or so, a cloud had covered the summit, blocking most of our view. Rainier is known to create it's own weather – storms can appear all of the sudden, and can turn a sunny day into a snowstorm. For us, however, this was just a passing cloud and quickly swept over the mountain revealing blue skies a few minutes later.
On any mountain, weather can change instantly – we were prepared with full winter gear and I would have been comfortable in even much cooler temperatures. In life, you have to prepare for all conditions, and know that as fast as things get good, they might get bad.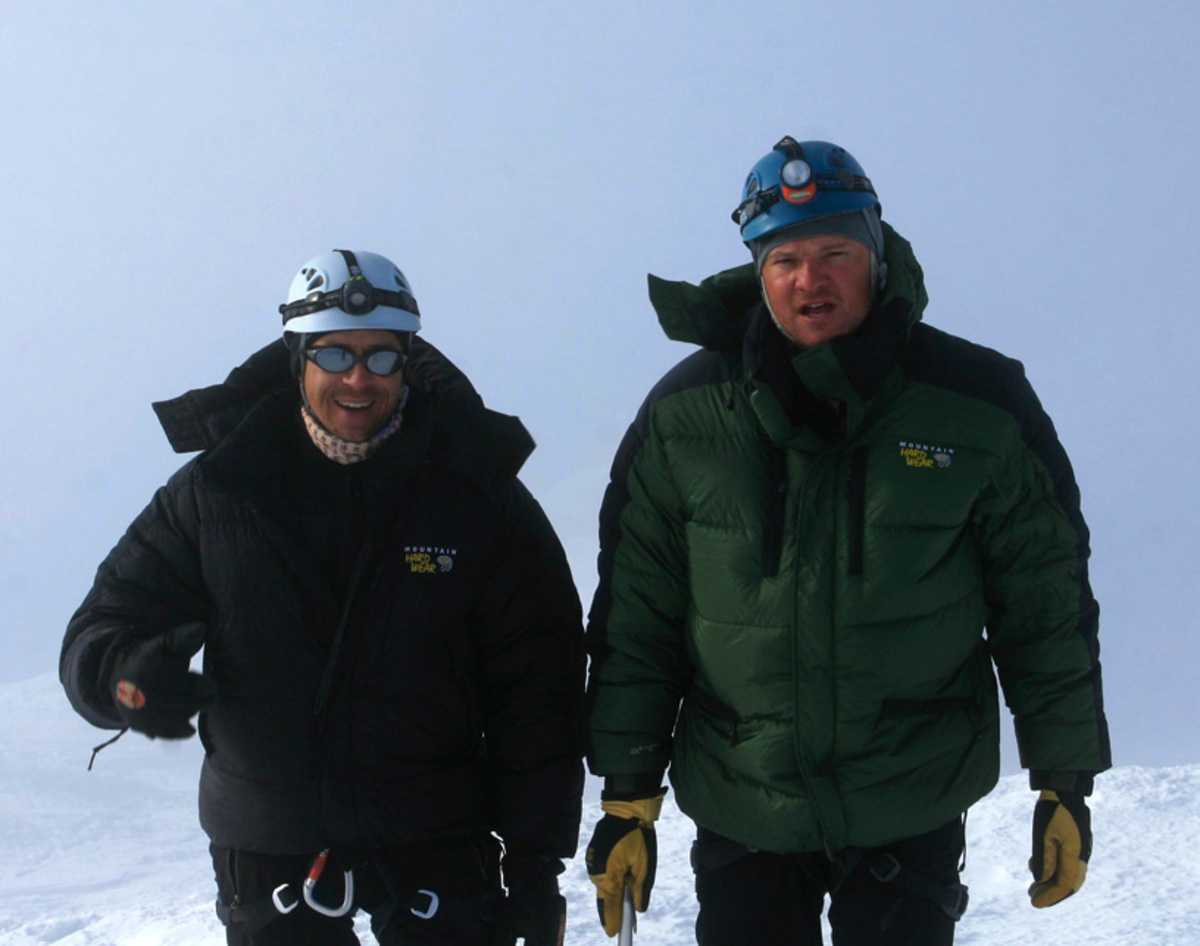 Here's Rob and I on the summit. Just as we got to the top a cover of clouds set in and it was almost a white out. It was pretty cold on top, and I was glad to be bundled in my comfy warm parka.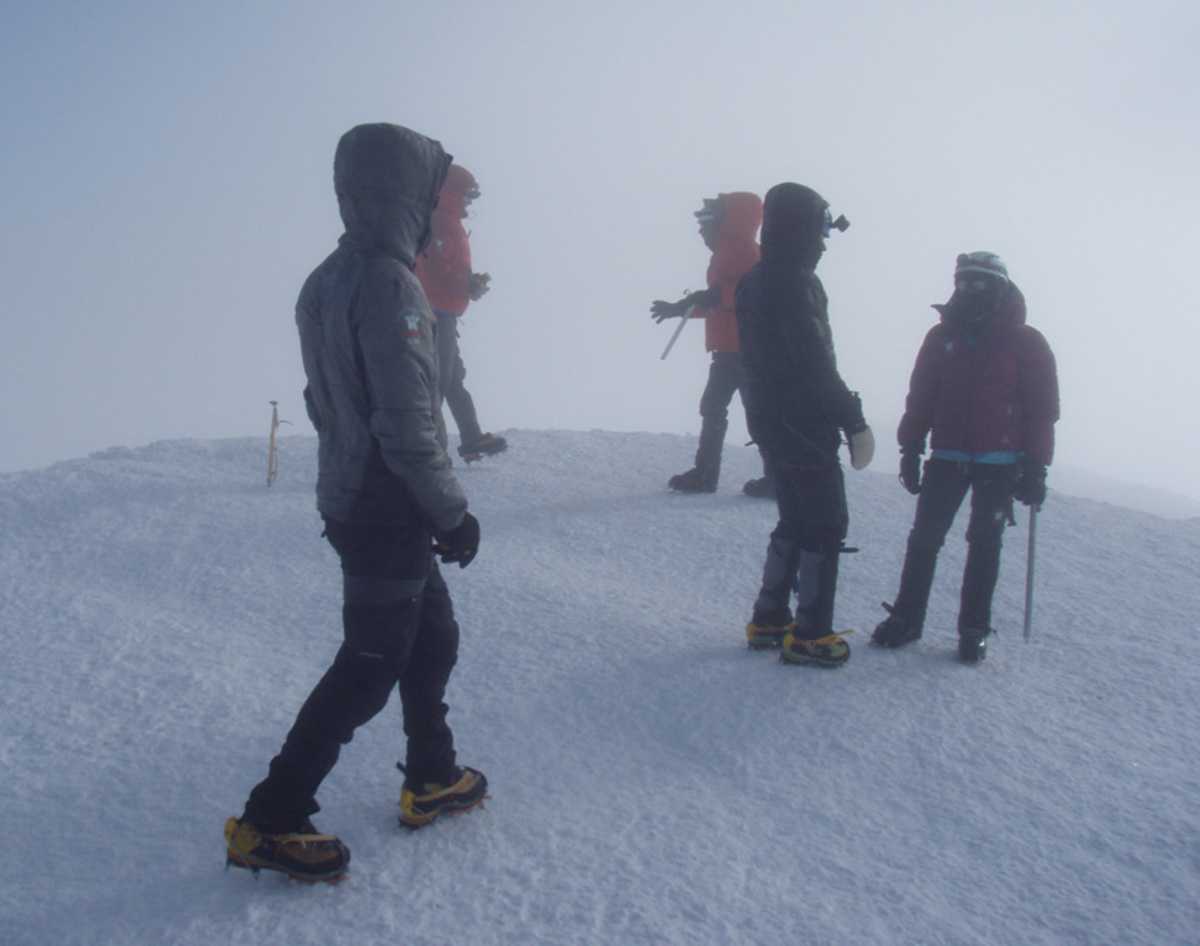 A few climbers in our group on the true summit of Mt. Rainier. It was cold up there with a bit of wind.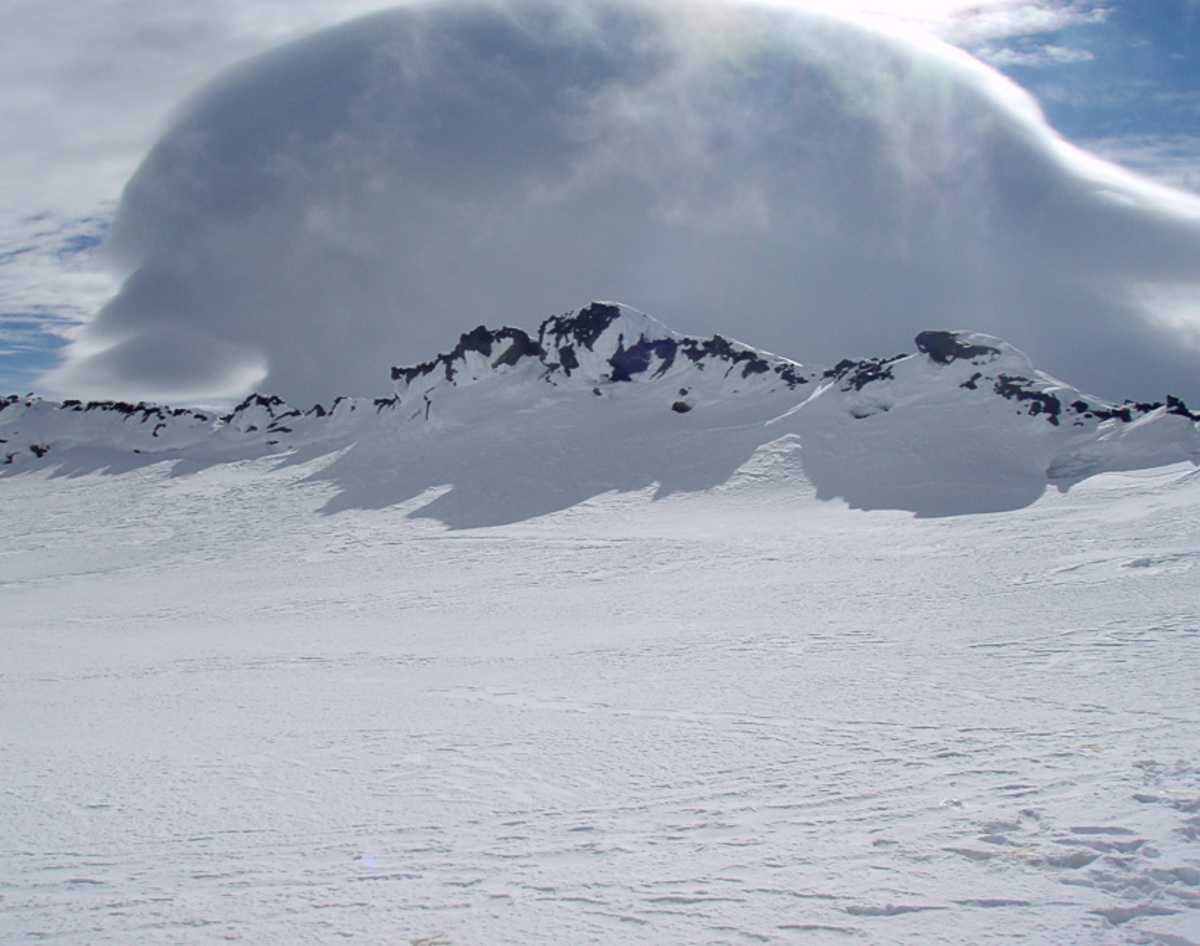 Just before we started our descent, this strange and beautiful cloud began forming off the edge of the crater.
The Descent
As with most everything in life, getting to the top is only half way – you have to make it back down. Most accidents in mountaineering happen on the way down. It can be harder to go down than up, and you've expended a great deal of energy to get to the top, and now you have to get down with tired legs. The trick is to prepare for the down climb the same way you prepare for the up. Take extra care, and be sure to make it down with something you gained from the top. You go up in the dark, but you get to come down in the daylight, viewing the whole mountain in a different light. Because of the angle of the mountain, when you go up you can only see a little ways in front of you without breaking your neck to look up. On the way down you can see the whole thing clearly and naturally. It makes you think you might not have even tried, had known what you were going up in the dark.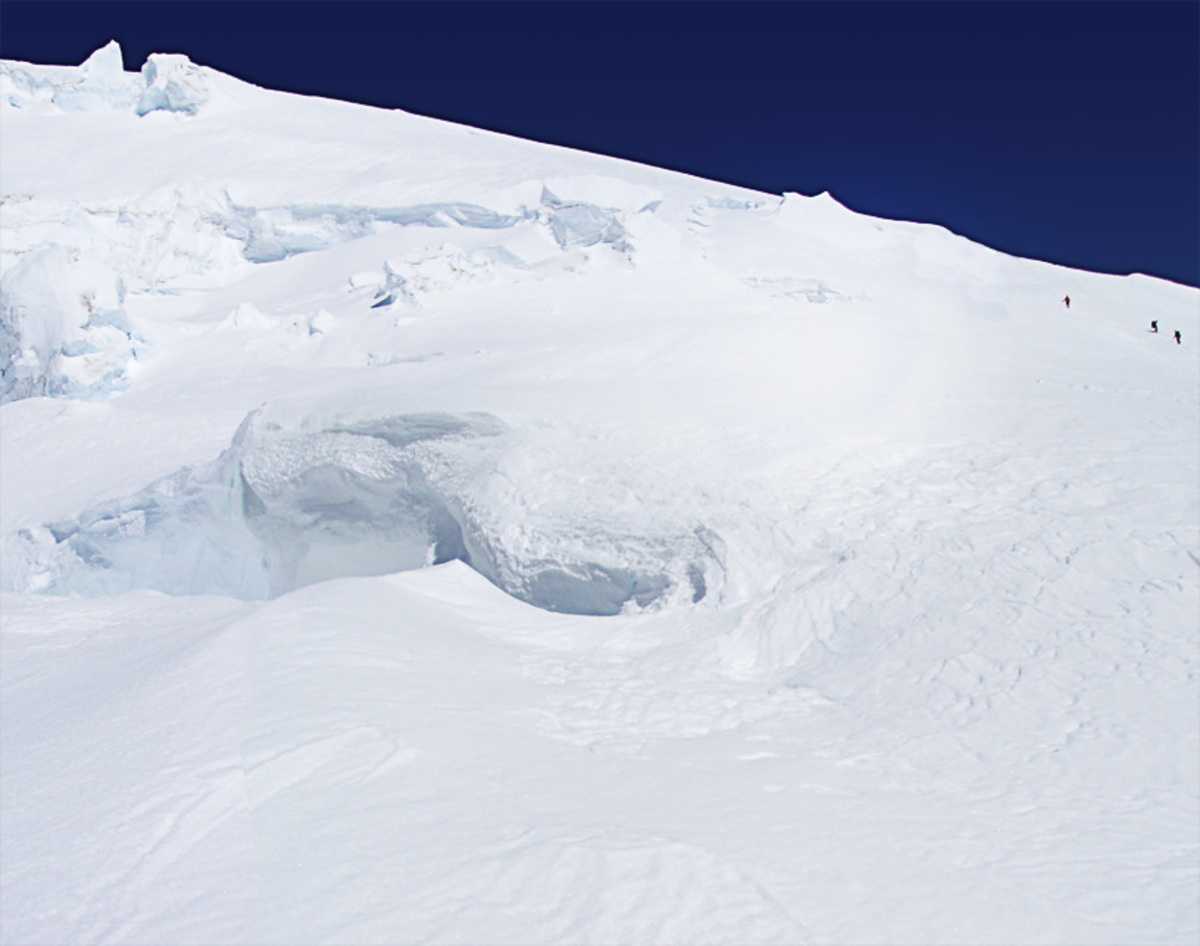 Descending the Ingraham glacier was truly spectacular. We climbed this section in the dark, and didn't really get to see the details of the mountain on the way up.
Dealing with Danger and Risk
"Living with the immediacy of death helps you sort out your priorities in life. It helps you to live a less trivial life." Sogyal Rinpoche
"It is not the goal of grand alpinism to face peril, but it is one of the tests one must undergo to deserve the joy of rising for an instant above the state of crawling grubs." Lionel Terray
Rainier is a dangerous mountain, there's no doubt about it. In just the time that I was preparing for this trip' two climbers were rescued due to adverse weather conditions. 10 more climbers were buried in an avalanche (9 rescued and 1 dead), and another climber mysteriously disappeared from his team and has yet to be found. Our guides warned us that there was a body on the mountain that may soon surface as the warm weather melts off the winter snow.
There's danger all around—Rainier is an active volcano – it could blow like Mt. Saint Helens, you could fall into a crevasse, you could be hit by falling rock or ice, you could freeze to death. There's chance for failure and even death but it doesn't mean that you can't do it, and It doesn't mean that you will die. You have to accept the risk, do everything you can to minimize it, and be alert to know that you are minimizing the chance of an accident, not increasing it with your own stupidity.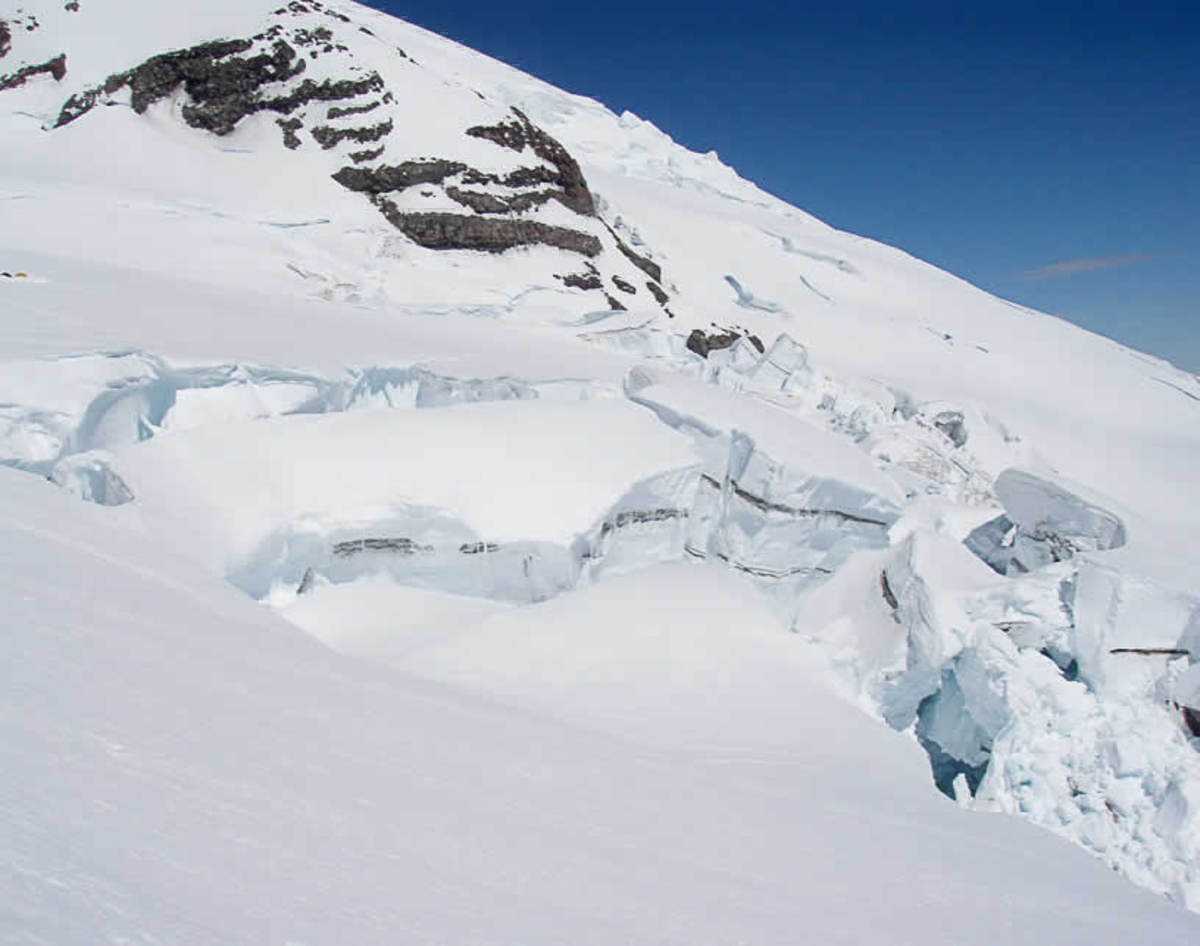 The glaciers on Rainier are spectacular. These giant crevasses of the Ingraham Glacier were amazing to see. For a sense of scale, the small orange dot in the upper/middle left are tents.
Make the Path Better for Those Who Follow
On our way down, our guide made adjustments to the path to make it better for groups coming up in the coming days. There was one section of the path that required us to step over an open crevasse. The opening was larger than even just a few hours before when we crossed it on the way up. It had gotten to the point that the route would probably have to be changed shortly in order to keep it safe, and the route that we took would be closed for the rest of the season.
Helping keep the route safe is a huge benefit for all the climbers who attempt to summit Rainier. Even though there are several guide services who compete for individual business, there's no competition on the mountain for the best route. Everyone contributes to making the route safe and enjoyable for everyone. Independent parties take advantage of the guide service's day-to-day knowledge of the route.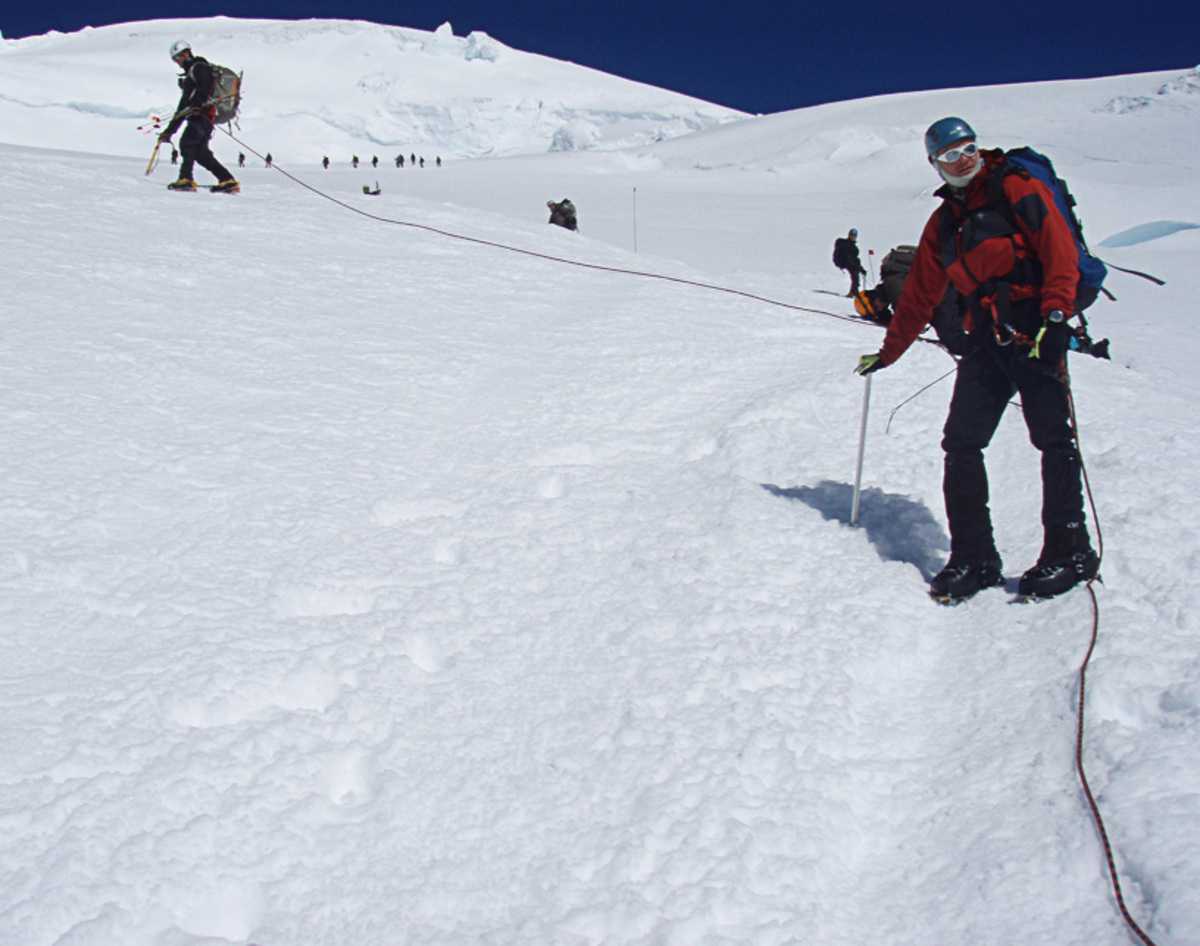 Our guide Billy Nugent making some adjustments to the path, The small flags help climbers follow the path in the even of new snow or whiteout conditions. Also on the rope team behind me are Rob and Mike who has his head in the snow taking a much needed break.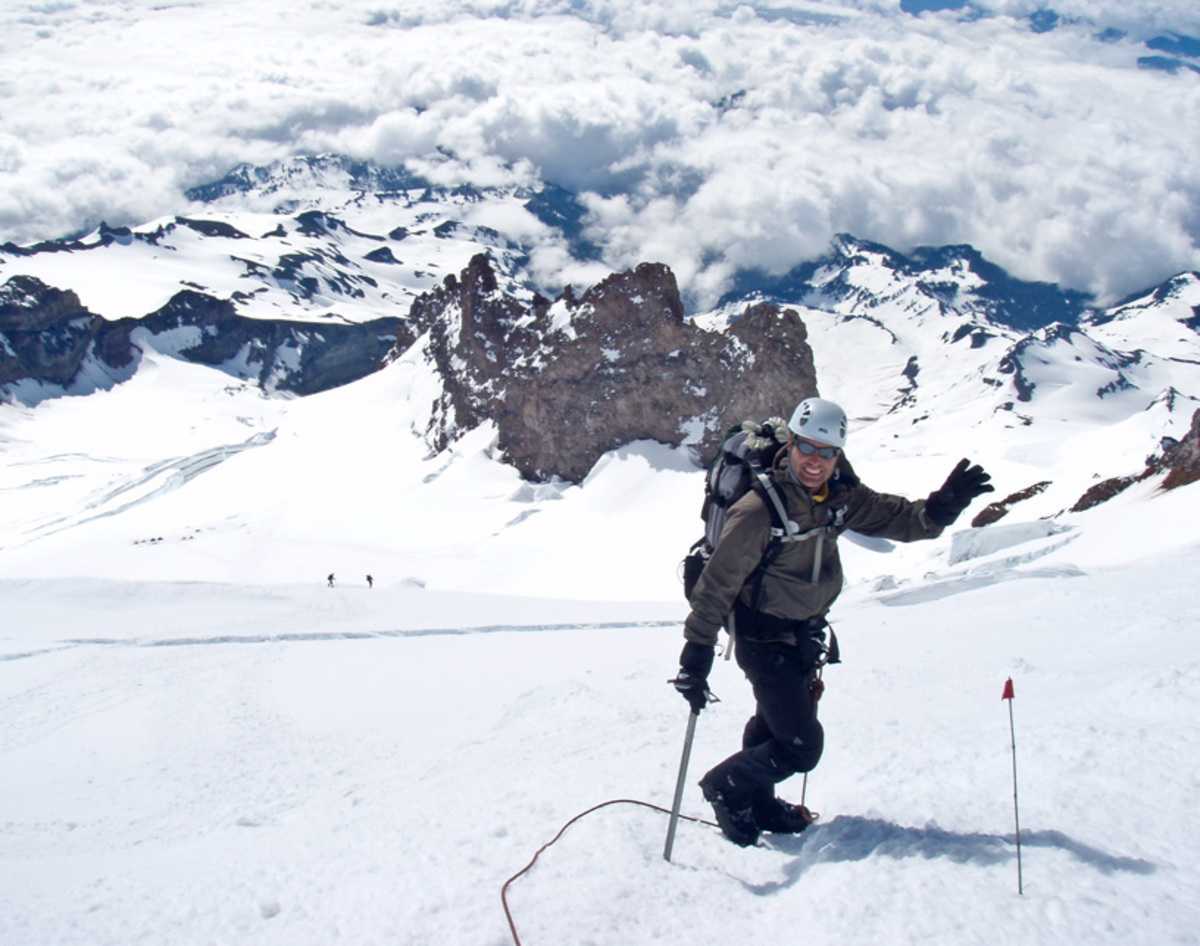 Rich on the front of our rope team leading us down the mountain.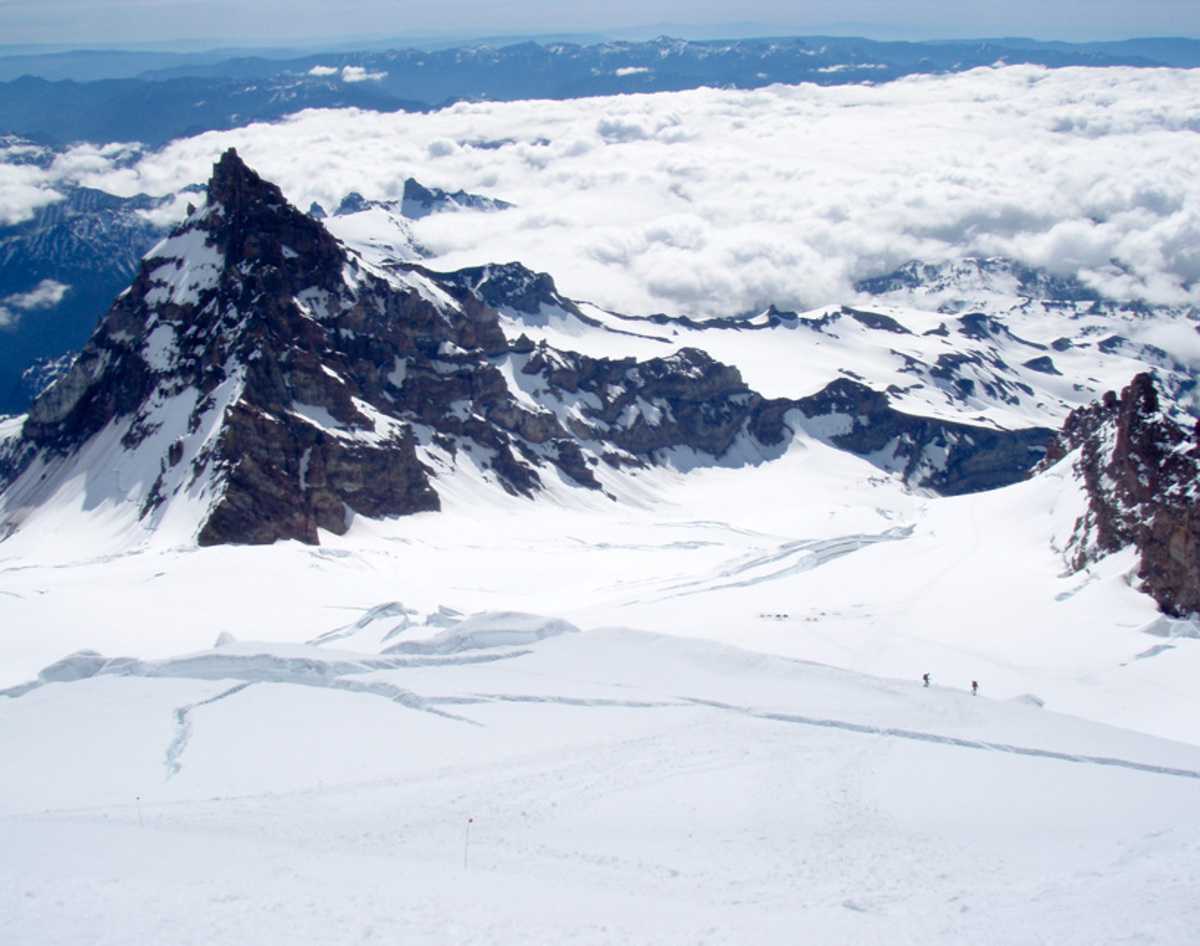 A spectacular view of Little Tahoma peak and the Ingraham glacier on the way down.
An Epic Trip
The trip was epic. I don't really know how else to describe it. Mt. Rainier is a beautiful place, it's a place that makes you feel alive. You can't help but reflect on the stunning beauty of nature and your place in it.
We had nearly perfect conditions and a only a few annoyances that will quickly be forgotten. And, as with all trips to the mountains – I learned more about nature, more about my place in it, and more about living.
I hope to find myself on another adventure soon.